Here is a whistle stop summary of building the Pi powered Delorean Time Circuit and Flux Capacitor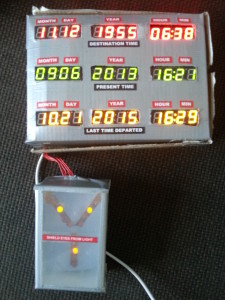 Wire 3 red LED common anode 7-segment displays to an Adafruit HT16K33 LED backpack.  Set its I2C address as 0x70
Repeat for green and yellow (0x71, 0x72 respectively)
Build and connect the flux capacitor to the "yellow" backpack
Connect all three to the 3v3, SDA, and SCL headers accordingly (pins 1, 3, and 5 on the GPIO – don't forget to connect a ground as well)
Make sure the I2C bus is setup on your Pi
Download my Python code.  You may need the AdaFruit I2C and LEDBackpack libraries if you don't have them already.
Tweak the Python as needed and execute the code!
Optional extras
Put it in a box and label accordingly
Don a white lab coat and a wig